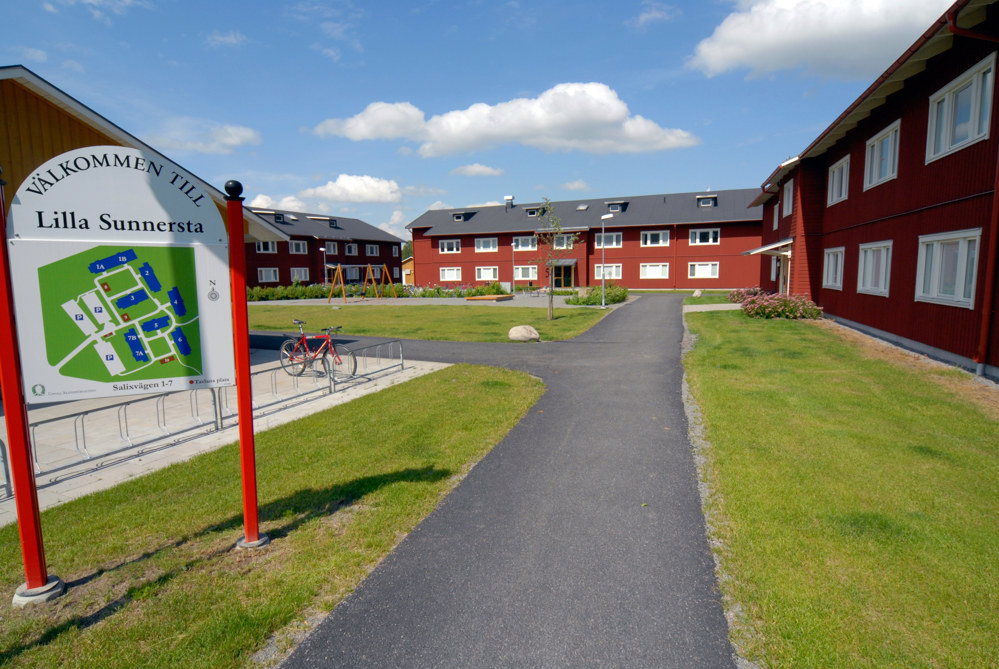 Lilla Sunnersta was built in 2005 and are apartments for students attending one of the universities in Uppsala.
There are a total of 220 apartments in Lilla Sunnersta. The low, "Falu red", the two-story buildings are grouped around small yards that open up to the west and south to let in sunshine and light. The area is lush green, with flourishing trees and bushes, giving a sense of idyllic country life.
The apartments are well planned and everything is new and fresh. All apartments have a small, well designed kitchenette with an oven, refrigerator and freezer. The size of the apartments varies from a small and practical bedroom with kitchenette to the somewhat more spacious three rooms and kithenette. Each apartment is equipped with a fiber optic network for computers and broadband and the option of receiving cable television.
Rent, in contrast to some student housing, is paid 12 months of the year. Living in Lilla Sunnersta offers students their own apartment with a myriad of possibilities.
Note that all our student apartments are unfurnished.
For students with children, too, Lilla Sunnersta is a wonderful place to live. The area has a playground and day care and schools are close by. Families here live not only close to the university they attend, but also close to stores, health care, and other services and necessities. In addition, the bus stops right in the housing area and there are plenty of spaces for parking.
In house 10 in Lilla Sunnersta there is a community hall which all tenants are welcome to book.
Outside the Community hall there is a bookning board and a locked key cabinet that opens with the apartment key.
Rules for booking the community hall:
Only 2 bookings can be done at the same time. This is for all to have the same opportunity to book the hall.
The hall must be well cleaned after your visit.
If the hall is not cleaned or if somethings are broken, please make a service request on our website.